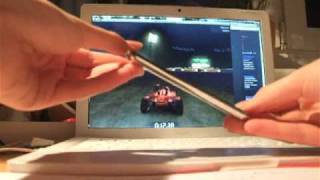 Nam's Remote
First money-making side-project
Nam's Remote
After the "success" of Maps Offline, I quickly realized the fun and reward of just building things that happen to solve a problem. Since I was always fascinated by alternative Input/Output methods to back then Mouse/Keyboard, I wanted to take advantage of the great sensors and technology the iPhone provided.
This was also my first real side-project which involved me learning all the goodies of "real" programming. It took me a week to just understand Apple's "Hello World program". Eventually however, I managed to create something usable.
Nam's Remote was heavily inspired by the Wii console and started with the idea that you should be able to use your iPhone as a steering wheel for PC games, much like YC-backed Flypad 4 years later. Furthermore, it included templates to remotely control media players, act like a touchpad/keyboard and many more.
In hindsight, just like Maps Offline, I'm quite amazed how I have improvised and things worked out. I had no clue of memory allocation (nor ARC back in the days) and I had my brother do the basic design (as well as speak English in the videos). To control the host, I used the Java Robot API by sending RPC-like messages such as "|mousedown|300|200|" over a UDP connection. It was a lot of google, copy-paste and trial and error until it worked. And I am proud of it.
Not only was I among the first 10,000 apps in the AppStore, Nam's Remote was my largest commercial success so far. Seeing the revenue figures right after school was out was quite exciting.